The department's research team RowUOIBoat has successfully participated in international competition for autonomous robotic boats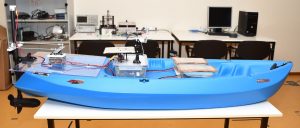 The research team RowUOIBoat from the Department of Computer Science & Engineering, University of Ioannina participated in an autonomous boat international competition (1st Aegean Ro-Boat Race) which took place in Syros island, Greece, 10-12 July, 2023. This competition was organized by the Department of Product & System Design Engineering from the University of Aegean, the Hellenic Institute of Marine Technology, the IEEE Oceanic Engineering Society, and the European Union with the support of the MIT Media Lab.
This was an international university-level competition that challenged teams to design and develop innovative autonomous robotics systems capable of performing in real-world sea conditions. The primary objective of this competition was to foster innovation while strengthening connections between academic institutions and industry. The topics to be judged included autonomous behavior, robotics, sensor fusion, boat design and overall innovation. Each team presented their project to a panel of experts in systems engineering and naval architecture and participated in three different races: the Speed race, the Don't Crash (Collision Avoidance) race and the Endurance / Last one standing race. Our department's team RowUOIBoat managed to successfully complete all races and secured the second place based on overall score. It's noteworthy that the team won the first position in the Don't Crash (Collision Avoidance) race.
The team RowUOIBoat of the Computer Science & Engineering, University of Ioannina consists of the following members: Piyabhum Chaysri, Ph.D. Candidate, Christos Spatharis, Ph.D., Kostas Vlachos, Assistant Professor, and the team's coordinator Konstantinos Blekas, Professor. It is worth noting that all aspects of the design, manufacturing, and programming of the autonomous robotic vessel were conducted entirely in the High Performance and Signal Processing Intelligent Computing Laboratory of our department. Furthermore, successful experimental trials were also conducted in the Pamvotis Lake's environmental conditions.